Deakin University Australia
Case Study
Statistics
53,000+
Students Enrolled
13,000+
Students Study Wholly In The Cloud
Largest Campus
IN BURWOOD, MELBOUNE
Configuring BYODs for WPA2-Enterprise Securely
One of Australia's top universities, Deakin University, saw the signs of the mobile device boom and anticipated the change in the technology landscape by implementing a BYOD policy. Of course, this can't just be accomplished on a whim, so they researched their options and resolved that the best course of action would be to implement a WPA2-Enterprise network. It's considered to be the high standard for secure wireless and second to none when securing a BYOD policy. They found that configuration was merely half the process, as it quickly became evident that additional support was needed to onboard users and manage the network.
With our previous onboarding solution, we were hurting. With SecureW2's JoinNow we managed to snatch victory from certain defeat
Immediately as users began to configure their devices and onboard to the network, issues began to arise. The process to manually configure a device for a WPA2-Enterprise network is not intuitive and led to significant issues for Deakin. The average network user will not understand the complicated IT language and there are several opportunities to mess up the configuration. They offered instructions to students because they were being bombarded with support ticket requests, but this was still ineffective. One of the drawbacks of a wide selection of mobile devices is that many require a slightly different process to get configured for WPA2-Enterprise. They weren't able to release a single, comprehensive guide because there were countless nuances that they couldn't account for. The configuration process for this network type is not simple and Deakin continued to receive requests; they needed a new solution.
JoinNow MultiOS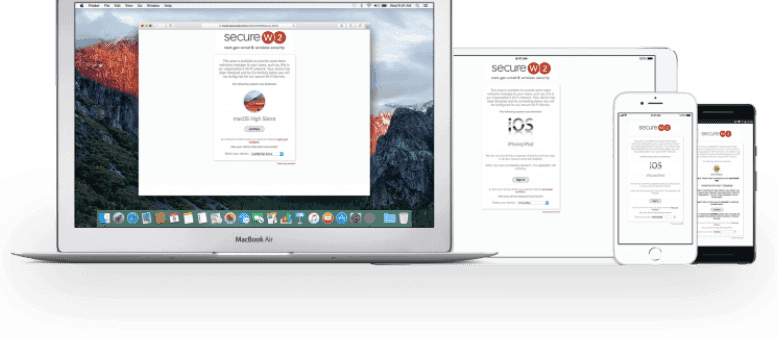 Supported OSs
Windows XP +
Mac OS X 10.5 +
Apple iOS 2.0 +
Andriod 2.1 +
Linux
Kindle Fire
ChromeOS
Supported EAPs
EAP TLS
PEAP / MSCHAPv2
PEAP / GTC
EAP - TTLS / PAP
EAP - TTLS / MSCHAPv2
EAP - SIM
ChromeOS
Deployment Option
Internal Web Server
SecureW2 Cloud
Automated and Secure BYOD WPA2-Enterprise Onboarding with SecureW2
Deakin's IT team set out to find a solution to their onboarding and configuration issues. The solution had to be scalable, user-friendly, highly secure, and not be cumbersome to manage. What they found was a demo for SecureW2's JoinNow MultiOS solution. After completing the demo and learning about the solutions SecureW2 provided, they had fully deployed SecureW2's onboarding solution within 4 weeks. The streamlined user experience immediately stood out as the solution to their support ticket requests woes.
Previously, configuring users was a complicated mess with far too many moving parts to be efficient. SecureW2's onboarding solutions allow users to self-configure their devices by simply entering login credentials and making a few clicks; in total, the process takes less than 5 minutes to complete. In addition, once users were onboarded to the secure network, their devices are equipped with digital certificates. Certificates have countless uses and benefits, but what specifically benefited Deakin was how simple reconnection is for users. A certificate-equipped device will automatically reconnect to the secure network without having to enter login credentials. As a result, the end user only needs to interact with the network during the initial configuration process.
Simple WPA2-Enterprise Network Connection Management
On the network management side, Deakin found many tools, both familiar and new, that elevated their ability to manage and protect their network. From beginning to end, the implementation of the solution worked effectively for Deakin University. The set up process is simple with a configuration guide and the certificate solutions univerality. It can be integrated with all major vendors for APs, network infrastructure, and much more. There are also numerous opportunities to customize the network to fit Deakin's, or any other organizations, specific parameters. They can set group policies that segment the network, configure certificates to expire on their schedule, customize the guest network to keep users from abusing it, etc. There are many settings and features that each organization can make an individual decision on to ensure their network works best for their needs.
What we couldn't believe about SecureW2's JoinNow was that it came straight out-of-the-box as a working tool — We deployed SecureW2's JoinNow with all the correct settings faster than I've seen with any product and we haven't looked back since.
What quickly became apparent for Deakin was that they were missing out on many tools that would improve their ability to manage and maintain a healthy network. New reporting tools provide identity context, allowing IT to identify the users and devices on the network and link them to a network connection. It also provides detailed connection reports for IT so they can diagnose and rectify potential connection issues.
When deploying a BYOD network, it's commonly accepted that some security concessions must be made to be sure users can seamlessly use their devices on the network. With SecureW2's onboarding solution, Deakin was able to avoid making concessions and ended up with a network that operates exactly as they intended when they set out for a solution. The solution saved an immense amount of time and resources for users and IT, and they're able to effectively manage a scalable, highly secure, and user-friendly BYOD network.